Linking up today with Neely over @ A Complete Waste of Make Up! This is definitely a post that is not helping my excitement to vacation! I am so excited to create more memories in Alaska, Seattle and Canada! I love to travel and this week's Sunday Social is all about the traveling!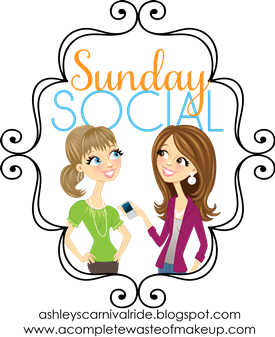 Enjoy a little bit of a few of the trips i have taken!
Best trip I've Ever Been On
Well, there are a couple trips that i have loved immensely! They are:
1. My Honeymoon with my hubs, of course, to Hawaii. We went to Maui and Oahu for about 9 days and loved every minute of the trip! We traveled, explored, swam, sat on the beach, ran in the rain, searched for banana bread and ate a bunch! We used the book Maui Revealed to help us along on our trip If you ever go to Maui, please buy this book! It will help out a bunch!
Here's a few shots from that trip:
2. The other trip i loved was a family trip to see my younger sister in 2009. My Mom and I went to visit my younger sister and her boyfriend who live in London! We had so much fun exploring and not trying to fit it all in. Rather, we had a relaxing trip that was filled with many new sights and experiences!
Here are some things you could see:
Stonehenge
The London Eye
Parliament and Big Ben
A day at the races!
Parliament Gardens
Best Idea for a Girls Weekend
This would be another one with two answers!
Loved Visiting Santa Barbara with the girls for a Bachelorette party! We had a great time on a wine tasting tour through the city and enjoyed a night on the town! It was a fun weekend!
I also loved Palm Springs!
This was my own Bachelorette party and it was a fun day of sitting by the pool and relaxing with a drink in hand!
A little Mexican food to begin the weekend! Complete with a mariachi band to serenade you!
The Palm Springs Aerial Tramway gives great views!
Especially from the top!
This is my little sis and me BTW!
Of course you gotta find a great group of girls to take with you! Love all these gals!
Best Idea for a Couples Trip
If this means a trip with other couples ... I would love to go to Paso Robles again! We did this exactly one year ago today and it was such a blast! (Happy Birthday Jami!) This was a weekend filled with fun, friends, hiking in a vineyard
(not recommended)
, yummy food and wine!
If this means just a weekend to get away as a couple .... then i would never turn down a weekend with the hubs in San Diego! I love that city and as i have said before, it holds a lot of special memories for us!
Best Vacation on the Cheap
My best idea of a vacation on the cheap would be a camping trip! My hubs and i have not camped together but would love to head out and just camp for a weekend! There are some local parks and beach camps here in So Cal and that would be really inexpensive! It would be nice ot have a weekend to hike, cook by the campfire, play some games, and relax!
Place You most Want to Visit
With my trip to Alaska fast approaching, my excitement is GROWING! But because i know that is a dream that will be realized pretty soon... after that my craving is to visit Europe again! I would love to go to London, Germany, and Italy with hubs! It would be so much fun!
Vacation/Travel Necessities
I just did a guest post about this! Along with those things, I will be packing my iPad and a couple books. For now, this is the book that I will have in tow on our cruise! I will also be reading digital versions of the Real Simple Magazine! <3 Along with the reading material, I will not leave behind my flip flops! Love those rainbows!
What do you like to pack? What can you not leave without?