This girl is H-A-P-P-Y, HAPPY!
One more work day and I've got 5 WHOLE WEEKS OFF!!!!
Ugh! I cannot tell you how much I need the break ... anyway... moving on ...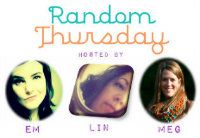 Well ... I've done a couple "bucket list" posts for myself. There's the one I did a while ago that is more of a "I hope I do this sometime in my lifetime" list and then the one I did for this summer. Either way, here's my five things:
One to Start Soon:
Make a list of 100 books you want to read and read them.
One Already Crossed Off the List: Watch the fireworks at Disneyland - Done on July 3rd.
One To Do By Age 50:
See a koala
One I'm Wondering Why I Listed It:
Spend a week at a Silent Retreat
(I must not have remembered how much I like to talk! That one will be difficult to cross of the list!)
One That I Can't Wait To Do:
Visit all Fifty of the United States
*My 5 things are from both of my lists!
So what are some things on your bucket list?