Oh there's so much on the agenda this week, both in real life and on this little blog!
Three things for today:
1. Thursday I will be linking up to "flaunt my cause" with Lindsey over t trial by sapphire! She doesn't know how much I love her posts but this is a blog I LOVE to read! She is always so positive and truly gives a different outlook on life! So, when she posted about the flaunt your cause link up, I automatically put it in my blog planner! Can't wait to share with you on Thursday!
2. Time for yet another birch box review! This time it's the Weleda Pomegrante Firming Day Cream that I gavea try. Here's the low down!
What I liked: I liked the scent of this cream. It has a fruityvsmellthat I really enjoyed putting on my face! I also really liked how light it felt on my face. There was no heavy feeling or thickness to the cream. This was nice because I always put on a moisturizer that has an SPF to it. It was by no means thick in any way.
What I did not like: there ere definitely a few things I disliked. I used this product for three days and the tube is almost empty. Because of this I am really not sure abou the firming aspect of this cream. There is really no visible difference. I also did not enjoy putting it on my forehead as the one time I did made my eyes sting a little. This was of course despite the fact that I did not go near my eyes (as directed on the package) when I applied it!
Did you try the same day cream? What did u think?
Ok and last but not least....
I am definitely excited to post about this....
3. Hadar is hosting a link party over at
Miss Kindergarten
about a wonderful Summer Bucket List.... Oh my goodness where can I go with this!?!?!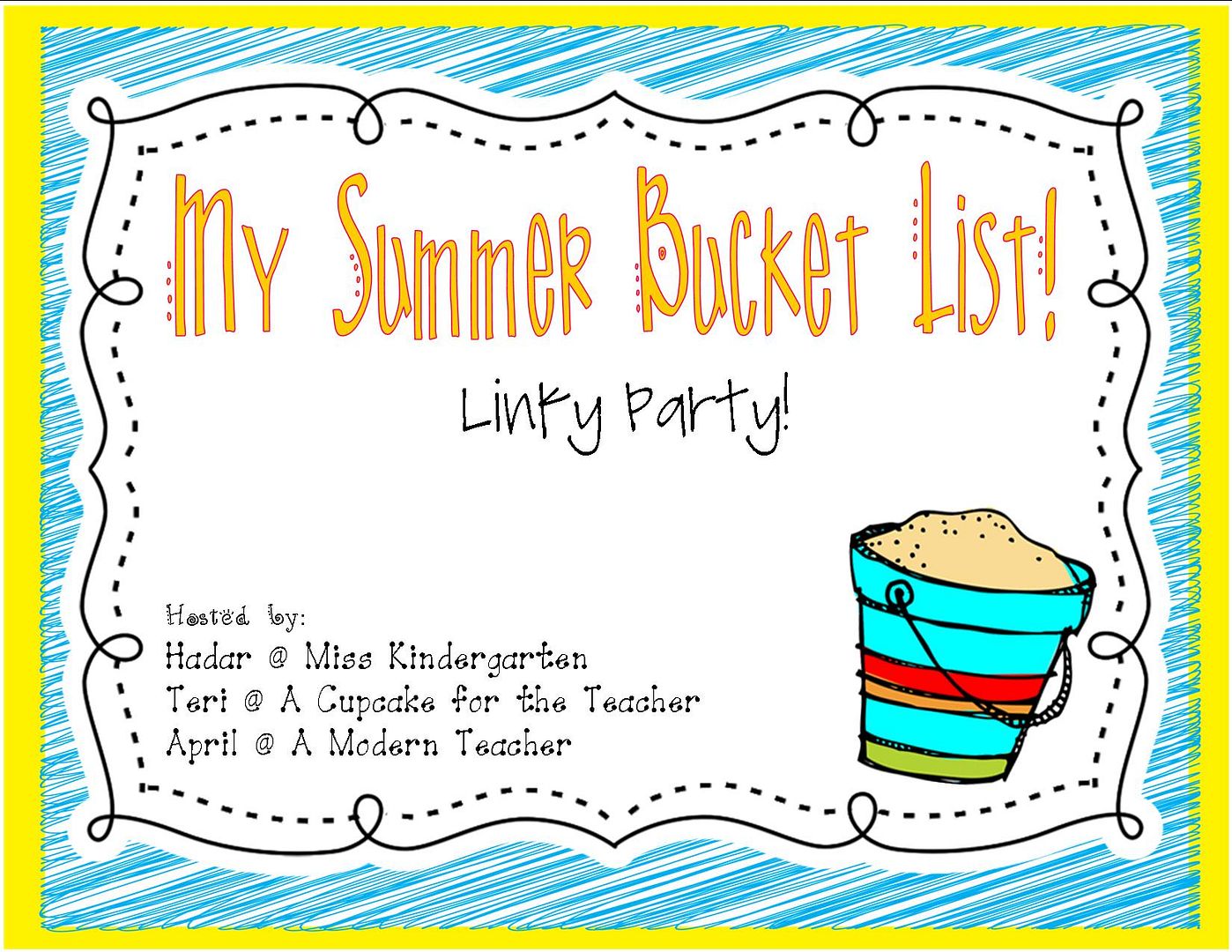 The answer is soooooooooo many places!
I have categorized my responses below.
Places I wish to visit
This is actually a real possibility. Dates are picked just saving our pennies for now!
Crafts I would love to complete
I plan to make a couple of these! One for spring and maybe a couple for friends and family! (Maybe I will even make one for a Fall Giveaway... it would be my first!)
What I want to do every day:
Sleep in!
A few of these would not hurt either!
For the classroom:
- My whole year planned out
- A math bulletin board all done!
- A new theme for groups and tables!
Activities to do around town:
- A concert in the park
- A few baseball games with hubs
- A movie in the park
- And of course a little shopping!