It's really not so random that i have had to clean out my purse, but what is pretty random is that this post is what motivated forced me to do it!
Today's Random Thursday topic:
So glad I did get a chance to clean out my purse!
Pens, sunglasses (inside the Maui Jim case), tea, lemonade drink mixes, and a cosmetic bag filled with Chapstick lip gloss, Advil, breath mints, gum, girly stuff, and much more!
This is where hte money is at! My checkbook, a small travel jewlery box, my point and shoot camera (I think the battery is DEAD and i am not sure where the charger is at the moment!) and my wallet from Fossil!
New gloves, Burt's Bees cuticle salve, Backyard Bees Body Balm, my CUTE tissue pack (because i got supper frustrated with ratty looking Kleenex packs in my purse!) and an empty ring box to hold my rings while i kick box!
Oh yeah and there was a little bit of junk!
Some was trashed and some was definitely saved!
Like our Realtor's business card! Gotta save that one!
You may say this is a lot of stuff, I agree! But i look at some of it and think to myself "the moment i take this out, I will need it, for sure!" I am so not alone on this one!
Do you have as much crap that you lug around?
Link up if you care to share what's in your bag!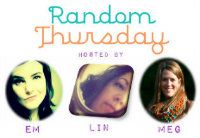 PS. My apologies for the awful pictures! Guess i should charge my point and shoot or bust out the DSLR?