Wow! What a weekend! Hence the late post and link up to the Sunday Social! Hope you enjoy! Today's topic is about this little blog and all that blogging has taught me!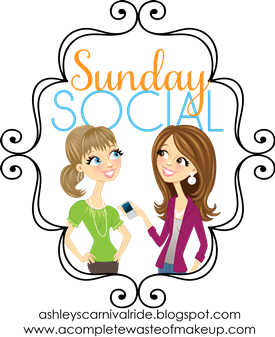 1. What is the name of your blog and how did you come up with it??
Whelp, this blog is called Busy as Honey Bee. I named it that because life is often so full of being busy as a honey bee! Life often feels so busy and this blog is a way for me to show the busyness of my life. It is a place for me to be crafty, learn, explore and grow! An added little tidbit (brace yourself for the cheesiness of this) my husband calls me is honey bee!
2. What do you love the most about blogging??
The best part about blogging is for sur the community! I hav learned so much and feel as though I have also contributed so much too! I am really looking forward to what this blog brings to others an to myself! The friendships aren't even the Hal of it but sur ad th icing on the cake! I can't wait to make more blogger friends IRL!
3. What are your 2 favorite posts you've written?
4. What is something you'd want to tell someone just starting out in blog world?
I would tell anyone starting out in the blogging world to make sure you do this blogging thing for yourself and not for the numbers! It can be super rewarding and encouraging to see the numbers go up, but make sure that it's something you enjoy an not something that becomes a chore!
5. Biggest blogging learning experience you've had?
Gosh! Not sure I have have one of these yet. It might be that I forgot to mention where I got certain pictures from! Learned my lesson and truly felt that person was so gracious and understanding! I think I have also learned too that friends and followers come from places where you would least expect it! Ohhhh and I have learned that everyone has a different style! It's best to learn form the style of others rather than feeling that you are lacking or less!
6. Give us 3 blogs we NEED to be following that you love.
Ok so here ar a few blogs that have really hit home with me:
Trial by Sapphire
(This girl has inspired such a positive attitude in me! Love hr blog! So creative and well said!)
Pray for Ian
(Love how this girl loves the Lord and how she serves her hubby everyday!)
&
Stay tuned for my 100 follower giveaway this week (Wednesday!!!)
& a fun weekend in review post tomorrow!