Oh gosh! Is it just me or is the week seemingly flying by with still the same amount of work to complete? Case in point: Its already Thursday!?!?! Wha?
Guess that means its time to link up and share my favorite feel good movies.... oh boy!
BTW Lovin this link up and Linny is about to become a friend IRL! Can't wait til next week Linny!
This might mean a lot of different things to many different people. To me a feel good movie is a flick that has memories attached to it or just flat out makes you feel good. I have a couple of these.
The first is You've Got Mail
I love this movie! I still can quote it and love re-watching it!
The second is Top Gun!
There are so many fun memories of watching this movie in my high school church leadership retreats!
Next up, Billy Madison.
This brings back even more high school memories. I had a group of friends that would watch this move pretty religiously every Friday night. I can still quote it and now my husband and i quote it ot each other.
Sleepless in Seattle.
This movie is proof that if something goes wrong, your life can still change for the better! Love Tom Hanks and Meg Ryan!
I have written about this one before.... Return to Me! See this post here to check it out!
Another one I love is Sweet Home Alabama...
I know, i know, another chick flick! I love them, what can i say!?!
I also think Mona Lisa Smile makes me smile. Julia Roberts is another favorite of mine!
Newly added to the list: The Help! This movie was not as good as the book, but I love the story nonetheless! Skeeter is an awesome character and i really think she and i would have been friends for sure!
OK, I'm sure there are more, but these are the ones i can think of. I am a chick flick lover and always will be! I also love a sad sappy story that turns out for the better! What movies make you feel good?
Link up with:
&
for
Also, if you love movies, feel good or not, join us for a swap!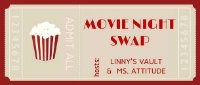 Alright, I'm outta here! Have a great Thursday!