Today I am linking up with Camille and her cute sisters at Six Sisters Stuff. This is exciting! I like linky parties! it seems to have made me feel more welcome to the blogging world! Still trying to figure out how i could have one and what i might have others link up with me and my blog! Gonna have to get creative!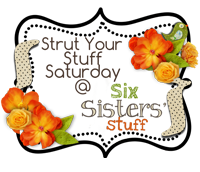 So today I am sharing a homemade Christmas gift from my husband's Aunt Norma and her son (my husband's cousin). Normally people share baked goods and/or candy. This year i decided to go against the grain and i made Cinnamon Almonds that i put in recycled jars. (This was a lot of work to get the labels of and to cut fabric to make the jars adorable!) But, my in-laws seems to have a great solution to the amount of work i put into my spiced nuts. That and they never had to say that they were giving away their nuts! Tee hee!
So, this year Aunt Norma made Balsamic Blanco Vinegar La Pomegranate and Roasted Garlic Reserve EVOO. These mixed together have made a great salad dressing! Literally all we have done is mixed the two to drizzle over our salads during the week and it has been tasty and light! This seems like it turned out great. The bottles are perfect and cute enough to decorate the counter top. I even like the rick-rack she decided to use to tie on labels. Here's a how to link if you wanna make the vinegar. Might be a bit of work, but at the same time would be good to make in a large batch and then store for use at a later date!
In addition to this, her son, my husband's cousin, Joe started us off with a great bottle of vanilla extract. He merely took vodka and vanilla beans in a cool looking bottle that when aged for three months or so, we would have a great big bottle of extract. This too has looked great on our counter!
I know these items made great gifts for the holidays, but i thought they would also make great gifts to warm the house, a hostess gift, or even just because! These seemed to me to be great gifts for the cook or baker as well!
So there's my idea! (Though i know it was stolen!) Let me know what you think or even if you decide to try this endeavor! I would love ot hear from you! Comments welcome!