Wow, its been quite the Monday! Does anyone else find that Mondays may actually be calmer than Tuesdays? This is usually the case, but today my kiddos were not in their normal Monday form! Neither was theri teacher for that matter! I admit it, today was a day where i did not want to go. Truly i wanted to throw a tantrum instead of getting in my car... but alas, I went and it went OK. I just had a case of the Mondays!
So here's something exciting... I'm linking up about

LOVE

!
Visit Funky First Grade Fun to see what other bloggers have said they

LOVE

!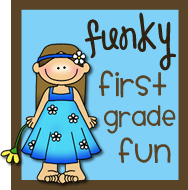 K so i am not completely able to figure out how to snag the document from the link up page. How does everyone do that? Help! So, my loves will be typed out. :(
I love to watch movies with...
My hubby! He's a good person to snuggle with when the scenes get too intense!
I love to read books (place)...
By the pool or in bed! Especially on vacation by the pool!
I love to shop for...
Shoes, clothes, and so much more!
I love to collect...
Lately it seems that chapstick is my collectible item!
I love to listen to...
I love to eat...
Pasta, but pasta does not love my hips! I can only eat it sporadically. Ugh!
I love to talk about ...
Anything really! My day, my students, crazy events, latest pinterest finds, blogging (its really new to me!), and so many more topics!
I love to make...
Anything! Cooking has really become a hobby of mine in the last few years. Also, I love to bake!
I love to travel to...
Anywhere! The next trip is already planned, Arizona here we come! Can't wait for baseball season!
I love to teach...
Literacy, Science, and Social Studies. I really enjoy teaching reading, but absolutely love using GLAD strategies for Science and Social Studies units! Anyone else use GLAD?
I do hope you enjoyed my loves! Care to share yours? Link up!