This one is right up my alley...
That's right it's time for my weekly Random Thursday post!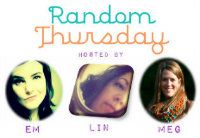 I love to cook and so this one might be just what i need to end my day (I am, of course writing this post on Wednesday night!)
|one|
Dump Cake
This is so easy a gnat could do it! I don't have my own picture of one of my hand crafted beauties, but i am totally kicking myself, because i made a beautiful one the other night for some of our friends!
But here are some links to some awesomeness!
And leave it to The Pioneer Woman to get it right:
Dump Cake
Oh, BTW, it truly is a can of crushed pineapple, a can of pie filling (your choice of flavor), a boxed cake mix, and a stick of butter (melted). Add nuts if you feel nutty! And i swear one of the easiest and most delish dessert you will have with really noooooo fuss!
|two|
I found this in a cookbook and have added ground turkey to it.... check out my blog post about it! (link above)
|three|
Flat Bread Pizza
Here's a sneak peak ... with a recipe to come on July 10th!
What are your quick recipes?
So much to cook and soooo little time!
Check out other's quick recipes!